November 24, 2003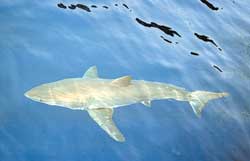 Researchers from the Pelagic Shark Research Foundation went to Isla Guadalupe to study great white sharks. Sean Van Sommeran/Contributed photo
---
Area researchers track migration of great whites
Sentinel staff report

SANTA CRUZ — Researchers at the Santa Cruz-based Pelagic Shark Research Foundation recently returned from a trip to Isla Guadalupe, where they continued their studies of great white sharks.

On the small volcanic island, roughly 225 miles off the coast of San Diego, the group tracked sharks in their ocean migration.

One of the animals, wearing a satellite transmitter attached by the researchers earlier this year, had recently come from Año Nuevo Island, just north of Santa Cruz.

Researchers say their work will help determine kinship relations between different types of sharks as well as help monitor the illegal shark-fin trade.

The remote location is also home to large elephant seal and sea lion colonies, and teems with tuna and marine mammals.
---
You can find this story online at:
http://www.santacruzsentinel.com/archive/2003/November/24/local/stories/04local.htm

---
Copyright © Santa Cruz Sentinel. All rights reserved.